That sigh of relief you hear is me being done with this book. Yup. It's made its way out into the world!
Okay, I just went to Amazon to copy the book description and got sucked into reading the reviews. (I had to, they were all saying nice things about my writing.) And one mentioned some typos and a formatting problem in the second half of the book–but didn't say what or where. Ugh! If you notice a typo/problem, please please tell me so I can fix it. That's the wonderful thing about ebooks–I can fix stuff if I know about it.
Buy the ebook of How I Met Your Brother!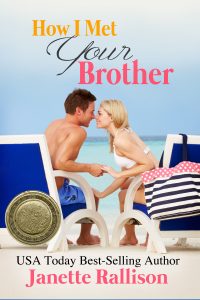 The best day of his life, the worst day of hers.
Back in college, Marco Dawson never thought of Belle as anything more than a friend. If she had crossed his mind on his wedding day, it was probably only to wonder why she hadn't shown up to be a bridesmaid. After all, his new wife was her old roommate. Seven years have passed since then, and Belle just found out that Marco is divorced and vacationing with his family in an elegant Cancun resort. She's not about to let the right man get away twice. She heads to the resort where she plans to casually bump into Marco and ignite some romantic flames.
But Belle hadn't planned on one thing: Flynn Dawson, Marco's handsome, charming, and determined twin brother. He thinks Marco and his ex-wife can make amends and he's not about to let Belle stand in the way.
Part Sabrina, part While You Were Sleeping, romantic comedy readers will eat this book up!