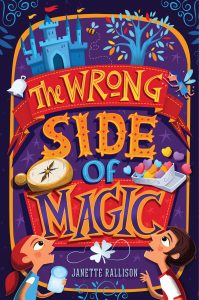 The problem with having four books come out in the same year is that you tend to get way behind with promotion. So here is a blog tour for The Wrong Side of Magic, which came out three months ago. (Hey, books aren't like bread. They're still good after three months.)
You can win copies of My Fair Godmother, My Unfair Godmother, and Slayers by entering the blog tour give-away listed at the end of the blogs.
Nov 14 http://snoopydoosbookreviews.com/
Nov 14 Secretpearlsreviews.blogspot.com
Nov 15 http://rebeccalamoreaux-anauthorinprogress.blogspot.co.uk/
Nov 15 roomwithbooks.com
Nov 16 http://bgillilan.blogspot.com/
Nov 16 http://cindybennett.blogspot.com/
Nov 16 http://www.angelacarling.blogspot.com/
Nov 17 http://annadelc.com/blog/?p=5133
Nov 17 bookgeekreviews.com
Nov 18 http://staceyschneller06.wordpress.com/
Nov 18 http://spunky-n-sassy.blogspot.com/
Nov 18 http://bgillilan.blogspot.com/
Nov 19 http://www.wishfulendings.com/
Nov 19 http://taliasreviews.blogspot.com/
Nov 20 www.lordofthebooks.com
Nov 20 Www.Facebook.com/tripleabookblog


"The Phantom Tollbooth gets a modern-day spin in this magical middle grade fantasy filled with adventure and humor that will whisk readers away!"

Hudson Brown stopped believing in magic long ago. That is, until the day he is whisked away to the magical land of Logos by a curious compass given to him by his off-beat neighbor, Charlotte.
Hudson discovers that Logos is a land ruled by words, thoughts, and memories. A fairy might ferry you across the river for the price of one memory. But be sure to look out for snarky unicorns, as they will see through those who are not pure of heart.
Not understanding the many rules of Logos, Hudson is quickly saddled with a troll curse. Charlotte, who, along with her father, was banished from Logos, can help get rid of the curse–but only if he agrees to find the lost Princess of Logos in return.