These two novellas were so much fun to write–and I promise they'll be even more fun to read because you won't have to rewrite any sections. (That makes a huge difference in your enjoyment level.) And now, because I need Amazon reviews, the book is on sale and I'll be giving away one 25.00 gift card to a reviewer on about June 29th. To be eligible, just review the book and then send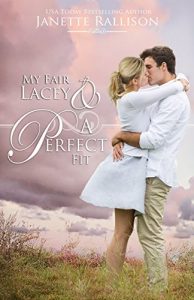 me a link to your review at jrallisonfans @ yahoo.com. Random.org will choose the winner. Your review doesn't have to be long or a five star–and as always with any of my ebooks, if you see a typo/grammar mistake feel free to tell me what and where they are. (I have about eight people proofread my books and things still slip by.)
Click Here to Buy My Fair Lacey & A Perfect Fit
Here is a description, and scroll down for an excerpt.
Lacey has dreamed of opening a restaurant for years – but first, she needs a loan. When Garrett Halifax, her roommate's Harvard-educated brother, offers to help her clean up her appearance and manner to impress the bank manager, she jumps at the chance. She makes mistake after mistake, and perhaps the biggest mistake is falling for sexy Garret.
This modern retelling of My Fair Lady offers all the humor of the original movie with a splash of romance thrown in.
Jojo Halifax, Lacey's roommate, believes that winning Echo Ridge's float competition is just what her fledgling art career needs. And if that means giving her ex-boyfriend, Anthony, a second chance so she can be a designer on his team, well, she's willing to make the sacrifice. But when a lost bet leads to a blind date with her brother's friend, Wyatt, she begins to have second thoughts about second chances. Wyatt is handsome and charming and just might have been paid to make her forget about Anthony. Is falling for his charm worth the risk or should she take Anthony back again?
Excerpt:
Jojo and Wyatt were nearing their floor. "Anyway, whatever price Garrett paid for your services, it was worth it."
Wyatt smiled. "Glad to know you're satisfied."
His answer shouldn't have bothered Jojo, but it did. She'd made the comment tongue-in-cheek and had expected him to deny that Garrett was paying him anything. Instead, he'd confirmed it. What was Garrett paying him with? A favor called in? Cash? She hoped it wasn't that. How much did make-my-sister-forget-her-boyfriend dates run? Hundreds? The more Garrett paid, the more pathetic it meant she was.
The elevator slowed to a stop and the door opened. Wyatt stepped into the hallway and paused, checking the numbers on the wall to see which way to go. Jojo followed him, rolling her overnight bag behind her.
"This way," he said, heading to the left. His room was 2312; hers was 2310.
She kept pace beside him. "So you're saying that Garrett actually paid you to take me out?"
"I didn't say that. I just said I was glad you were satisfied."
"Then he didn't pay you?"
"I didn't say that either."
"Well, which is it?"
He gestured to the rooms on his right, completely unperturbed by her questioning. "Here are our rooms."
"You're not going to answer me?"
He paused in the hallway, seemed surprised by her insistence. "What are you really asking? Do you want me to tell you that you're pretty enough and interesting enough to get a date without your brother's help? You absolutely are. But I suspect you already know that. Girls who are as pretty as you are quite aware of it."
The compliment washed over her, made her tingle. She was pretty and interesting. "Ah, thanks. You're so sweet." And then the next moment her doubts returned. "Wait, is my brother paying you to say things like that to me?"
Wyatt laughed, then unlocked his door. "I'll be ready to go in five minutes. See you then." He winked and disappeared inside, shutting the door.
That wink. Jojo would look stupid if she tried it, but Wyatt made the gesture flirtatious and intimate, like she'd gained entrance to his inner circle. A place she suddenly wanted to be.
As she walked into her room, she made a new goal for the evening. She would not do impulsive, foolish things, like throw herself at Wyatt in an attempt to get over Anthony. She would not flirt with him and try to get him to kiss her. Nothing good could come of that. Except, of course, the kissing part. With a guy like Wyatt, that was bound to be good.
Nope. She wouldn't find out.
But then again, maybe she would.