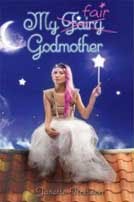 I should probably clean more. Who knows what I'd find? While going through the game room yesterday, I discovereed some ARCs (advanced reading copies) of My Fair Godmother. Yeah, I probably should have found a homes for those long ago. I'll start by giving one away here. That said, keep in mind that ARCs have typos in them. Usually the typos aren't that bad, but in My Fair Godmother . . . yowza. I think the publisher used someone who didn't actually speak English to go over them. Why else would somebody change the word Yankee to yanker? I mean, that makes no sense. When was the last time someone told you, "Go home, yanker!"
It sounds vaguely obscene.
Worst still, in the climax a snake is a snack. Yep, not many people are really afraid of snacks so it changed the whole meaning of the scene.
But who knows, if the book ever becomes a movie, maybe those typo-filled ARCs will become collector editions. (This is my attempt to make you covet one.)
Since Chrysanthemum Everstar, Fairy Godmother extraordinaire, loves to send people to fairy tales, I'll need to choose some new fairy tales for book three–assuming I ever do a book three.
So to enter to win, leave a comment about which fairy tale/myth/folk story hero you would like to see in book three. (Keeping in mind that Cinderella, Snow White, Rumpelstiltskin, and Robin Hood have already been used.)
Followers get double chances, so mention if you are a follower in your comment.
And may you live happily ever after!