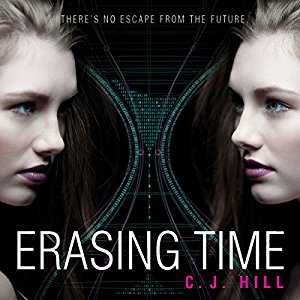 Erasing Time is now available as an audio book, which means I will soon have some audio codes for reviewers. I thought I would do a giveaway on my blog. Here's what you'll need to do for a chance to win one:
Have an Audible.com account or be willing to set one up for a month so I can give you a code. (You can cancel afterwards, although to tell you the truth, you might become addicted to audio books the way I have. It's so much more fun to clean, drive, or put on makeup while listening to a book.)
Be willing to review the audio book (and you can use the same review to review the regular book on Amazon.)
Leave me a comment telling me where you'd go if you had a time machine.
Here's info about the book:
When twins Sheridan and Taylor wake up 400 years in the future, they find a changed world: domed cities, no animals, and a language that's so different, it barely sounds like English. And the worst news: They can't go back home.
The 25th-century government transported the girls to their city hoping to find a famous scientist to help perfect a devastating new weapon. The same government has implanted tracking devices in the citizens, limiting and examining everything they do. Taylor and Sheridan have to find a way out of the city before the government discovers their secrets. To complicate matters, the mob-like Dakine has interest in getting hold of them, too. The only way for the girls to elude their pursuers is to put their trust in Echo, a guy with secrets of his own. The trio must put their faith in the unknown to make a harrowing escape into the wilds beyond the city.
Full of adrenaline-injected chases and heartbreaking confessions, Erasing Time explores the strength of the bonds between twins, the risks and rewards of trust, and the hard road to finding the courage to fight for what you believe in.
If you already have an audible account and just want to order it (or if you want to set up an account–new accounts earn one free book) here's the direct link: Order Erasing Time!