I decided that one way to deal with the Godmothered situation is to get my series out to more people, so I'm making all three books free for three days. Here are the descriptions and the links.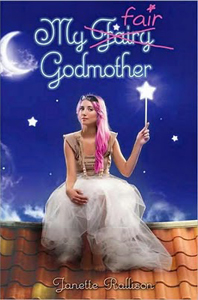 An incompetent fairy godmother. What could go wrong?
Some girls steal their sister's clothes. Savannah's sister steals her boyfriend. Yea, that was a really bad day.
After such a dramatic breakup, Savannah needs a true prince–and fast, because the prom is only weeks away.
But looking for love can be a Grimm experience.
Enter Chrissy (Chrysanthemum) Everstar: Savannah's gum-chewing, cell phone–carrying, high heel-wearing Fair Godmother. Showing why she's only Fair―because she's not a very good fairy student―Chrissy sends Savannah back in time to the Middle Ages, first as Cinderella, then as Snow White.
Being a fairy-tale princess is so not what it's cracked up to be.
Finally, Chrissy sends Tristan, a cute guy in Savannah's class, to the Middle Ages to turn him into her prom-worthy prince.
He and Savannah must team up to defeat a troll, a dragon, and the mysterious and undeniably sexy Black Knight.
Laughs abound in this clever fairy tale twist from a master of romantic comedy. Start this bingeworthy series today!
Click here to get My Fair Godmother free!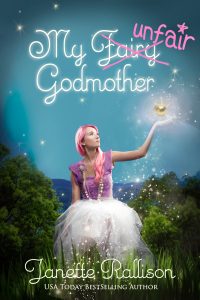 Be careful what you wish for—at least when your fairy godmother is in training.
Tansy Miller has always felt that her divorced father has never had enough time for her. But mistakenly getting caught on the wrong side of the law wasn't exactly how she wanted to get his attention.
That trip down to the prison was really not her best moment.
Enter Chrysanthemum "Chrissy" Everstar, Tansy's all-too-teenage fairy godmother. Chrissy is still training, so Tansy's three wishes don't exactly go according to plan.
And if mistakenly bringing Robin Hood to the twenty-first century isn't bad enough for Tansy, being transported back to the Middle Ages to deal with Rumpelstiltskin certainly is.
That fairy tale is so much creepier when it's happening to you.
Tansy will need the help of her blended family, her wits, and especially the cute police chief's son to stop the gold-spinning story from spinning wildly out of control.
With romance, magic, and suspense, My Unfair Godmother is the sort of laugh-out-loud, feel-good fairy tale that both teen girls and their mothers will love. (In other words, hide it from your daughter until you're finished…)
Click here to get My Unfair Godmother for free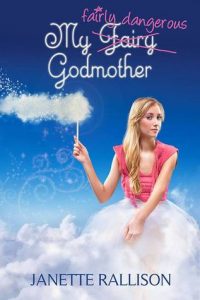 A fairy godmother can be a dangerous thing.
Some people bomb singing auditions. Sadie throws up on live TV during hers. So yeah, there's no way she'll ever be able to face strangers again, let alone the people at her high school.
Her performance on America's Top Talent is so bad it earns her a fairy godmother through the Magical Alliance's Pitiful Damsel Outreach Program. Enter Chrissy (Chrysanthemum) Everstar: Sadie's gum-chewing, cell phone–carrying, high heel-wearing fairy godmother to save the day—or perhaps make it even more horrible.
Wishes are, after all, unpredictable things.
Sadie finds herself thrown back in time to be first the Little Mermaid and then one of the Twelve Dancing Princesses. Wishes are permanent, and if Sadie wants to get back to her home, she'll have to strike a magical bargain—one that involves stealing a goblet from a powerful fairy queen.
Worse yet, Sadie has competition from a handsome thief with an invisibility cloak. He may not only steal the goblet, he may make off with her heart too.
This laugh-out-loud fairy tale retelling combines romance, suspense, and magical twists that will make readers wish they had their own fairy godmother. (Or at least the hot guy in the story. Don't accept a fairy godmother. Just don't.)
Stay In The Loop
Subscribe and receive a free Ebook!
Want to know about new releases or ebook sales?
Sign up for Jannette's newsletter and receive a free copy of Fame, Glory, and Other Things On My To Do List.