Need a beach read? These will be perfect!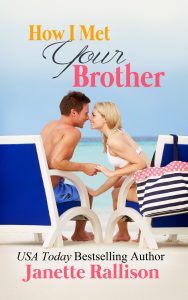 How I Met Your Brother
The best day of his life, the worst day of hers.
Back in college, Marco Dawson never thought of Belle as anything more than a friend. If she had crossed his mind on his wedding day, it was probably only to wonder why she hadn't shown up to be a bridesmaid. After all, his new wife was her old roommate. Seven years have passed since then, and Belle just found out that Marco is divorced and vacationing with his family in an elegant Cancun resort. She's not about to let the right man get away twice. She heads to the resort where she plans to casually bump into Marco and ignite some romantic flames.
But Belle hadn't planned on one thing: Flynn Dawson, Marco's handsome, charming, and determined twin brother. He thinks Marco and his ex-wife can make amends and he's not about to let Belle stand in the way.
Part Sabrina, part While You Were Sleeping, romantic comedy readers will eat this book up!
Click to buy How I Met Your Brother for .99
Masquerade
A little white lie never hurt anyone.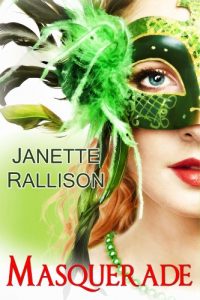 When Clarissa takes a much needed job under slightly false pretenses, she doesn't think it will be such a big deal. She may have told her movie-star boss that she was married but that shouldn't matter. After all, she doesn't want anything to do with men for a long, long time.
It's hard for a woman to keep up the masquerade when her boss is as handsome as Slade Jacobson and the job takes her to Hawaii with him. In between handling his whirlwind four-year-old daughter and dealing with a whole cast of Hollywood personalities, Clarissa has to keep a tight hold on her heart.
Masquerade is romantic comedy at its best–clean and funny with lots of heart.
Click here to buy Masquerade for.99
A Longtime (and at one point illegal) Crush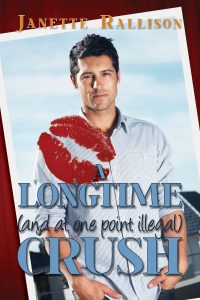 From the day Elsie's big brother brought his friend Kye McBride over to their house, Elsie adored him. When she was eight, she secretly blew kisses to him. When she was twelve, she sat on the stairs, unnoticed, and watched him escort another girl to prom. When she was a senior in high school, she walked into math class and found out he was her new math teacher.
With that much emotion fueling her, things were bound to go wrong. And they did. After Elsie let him know how she felt and made a fool of herself, she spent the last two weeks of school avoiding him. In fact, she turned avoiding-Kye-at-all-costs into her life-long philosophy.
Now three years have passed and Elsie has come home for her brother's wedding. She's got to face Kye—hopefully without getting crushed again.
Publishers Weekly has called Janette's romantic comedies "Hilarious."
Click to get the novella Longtime Crush for free
It's a Mall World After All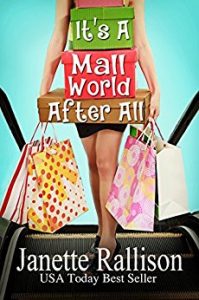 A fun romp of a read that's sure to please."–Booklist
"Witty and hilarious." –TeensReadToo.com
If they gave out diplomas for what you learn at the mall, Charlotte could graduate with honors. Ever since she got a job as a perfume spritzer, she's become an expert on all things shopping related―oh, and she's getting really good at spying on her classmates who hang out there. What she hasn't mastered is the art of convincing her best friend Brianna to dump her boyfriend Bryant. After Charlotte caught him flirting with a mysterious, blond-haired stick figure, she knows he's up to no good. Worse still, now Brianna is taking his side. Charlotte must prove who is right, once and for all, and that means catching Bryant in the act. This is where her mall roaming skills will come in handy. Perfume anyone?
Click here to get Mall World for free