Want to know about new releases or ebook sales? Sign up for my announcement list and you'll be the first to know. Plus you'll get a free ebook of Fame, Glory, and Other Things on My To Do List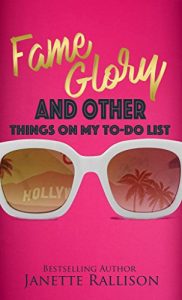 PC school principal turns West Side Story into a comedy of errors.
Sixteen year-old Jessica dreams of Hollywood fame, and when Jordan moves into her small town, she dreams of him too. He's a movie star's son, and hey, he's gorgeous to boot. Jordan has always wanted to get out from the shadow cast by his superstar father, but now that he and his mother have moved so far away from LA, how can he get his divorced parents back together? Jessica convinces Jordan the way to get his father to come for a long visit is to be a part of the school play. And if she's "discovered" in the process, all the better. Things go wrong when she lets Jordan's secret identity slip, and grow even more disastrous when the principal tries to change West Side Story into a gang-free, violence-free, politically correct production.
In the same romantic and sharply witty spirit of Life, Love, and the Pursuit of Free Throws, Janette Rallison delivers another comic gem that teen readers are sure to love.
.