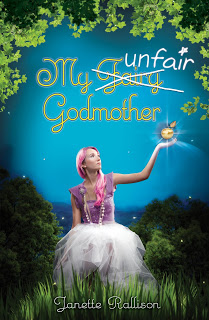 Or at least it should be. If it's not, you should stand around your local bookstore and in a loud voice say, "I demand you get me a copy of My Unfair Godmother forthwith!"
It's 12:35 AM. Just for the heck of it I went on to Amazon to see my sales rank. It's at 32,854 which is actually better than I expected. There are already nine used copy for sale. Where do these people get their copies? Mine are supposed to show up tomorrow. Are Walker interns pocketing the books or something?
Anyway, today's give-away is a copy of My Unfair Godmother–complete with a bonus mistake left over from the whole straw/hay debacle.
Here's the deal. My good buddy, Random.org, and I will choose a winner at the end of each day. (The end of each day depends on when I go to bed, so comment early.) Commenting will get you one chance. If you're also a follower you get two chances (be sure to tell me you're a follower in your comment), and if you put something about this giveaway on your blog or facebook status you get four chances. (Put the link to your post in your comment.)
***But today in order to get the extra points for blogging/tweeting/facebook statusing you need to have something that says the book is released today. Oh, and you can comment on Facebook, Goodreads, or my website blog. I will be counting all of those comments.
May the Random.org be with you!