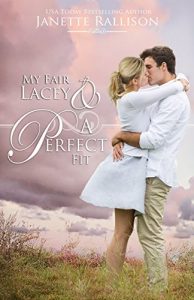 I grew up watching My Fair Lady. Loved it. Still do. In fact, I can sing along with several of the songs. (My personal tradition is to sing the I'm Getting Married in the Morning song to anyone the night before their wedding.)
There was only one thing wrong with the movie: not a good romance.
So it probably shouldn't be a surprise that I wrote a modern-day version with a hot guy. If you like My Fair Lady, you need this book for your collection.
After I wrote the story for the 3rd Echo Ridge Anthology, I knew I needed to write a story about Jojo, Lacey's roommate too. That novella appeared in the 4th anthology.
Now you can have the two books together. I think they're a perfect fit, if I do so say so myself… Here are their descriptions:
Lacey has dreamed of opening a restaurant for years – but first, she needs a loan. When Garrett Halifax, her roommate's Harvard-educated brother, offers to help her clean up her appearance and manner to impress the bank manager, she jumps at the chance. She makes mistake after mistake, and perhaps the biggest mistake is falling for sexy Garret.
This modern retelling of My Fair Lady offers all the humor of the original movie with a splash of romance thrown in.
Jojo Halifax, Lacey's roommate, believes that winning Echo Ridge's float competition is just what her fledgling art career needs. And if that means giving her ex-boyfriend, Anthony, a second chance so she can be a designer on his team, well, she's willing to make the sacrifice. But when a lost bet leads to a blind date with her brother's friend, Wyatt, she begins to have second thoughts about second chances. Wyatt is handsome and charming and just might have been paid to make her forget about Anthony. Is falling for his charm worth the risk or should she take Anthony back again?
Romantic comedy lovers will eat these two novellas up!
Stay In The Loop
Subscribe and receive a free Ebook!
Want to know about new releases or ebook sales?
Sign up for Jannette's newsletter and receive a free copy of Fame, Glory, and Other Things On My To Do List.