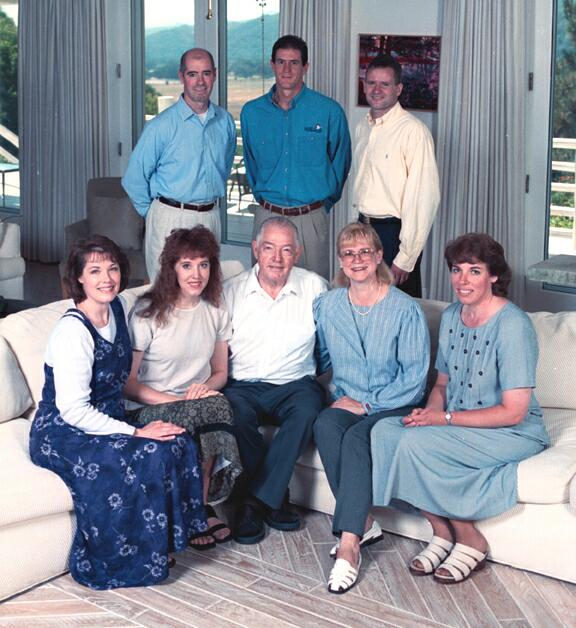 I dedicated My Double Life to my father. It only seemed right to thank him for being there for me when my main character's goal during the book was to meet the father that she had never known.
My dad passed away recently from ALS. I was lucky enough to be able to help take care of him during the last weeks of his life. I could tell a lot of good stories about my father, and some of them will probably come out in my blog or in books, but here's an important one that I shared with my brothers and sisters recently.
When I was first trying to get published (I'd written a picture book manuscript) I sent it off to a dozen publishers, and they all rejected it. One night as I was walking to get the mail, I was thinking about this and wondered if I should really pursue writing or not. I'd always liked it, but then, I'd always liked dancing, singing, and acting, and I wasn't trying to pursue a career as a dancer, a singer, or an actress. I wondered if writing should be put in  the same category. I said a prayer, asking for direction.
I took the mail out and saw a letter from The New Era Magazine. I thought that was strange since we didn't get The New Era. Then I opened the envelope and saw that it was an acceptance letter. I thought that was even stranger since I'd never submitted anything to them. Then I remembered that Dad had told me he was going to submit one of my short stories.
That incident was one of the few times my prayers have been immediately answered. I knew as I held that letter in my hand, that I was supposed to pursue writing.
The rest as they say is history. I'm glad I had such a supportive father.
Stay In The Loop
Subscribe and receive a free Ebook!
Want to know about new releases or ebook sales?
Sign up for Jannette's newsletter and receive a free copy of Fame, Glory, and Other Things On My To Do List.