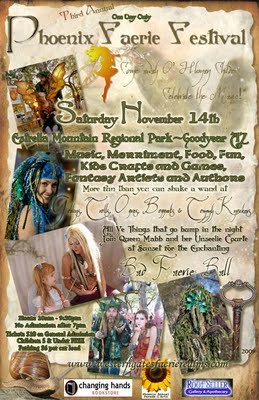 Next Saturday I'll be at the Fairy Festival. (Or if you're highbrow it's: Faerie) You, like me, might not have even known that the faeries all got together once a year to have a festival, but they do. I'll be there with other cool fairy/faerie authors: Aprilynne Pike (Wings) Janni Simner (Bones of Faerie) and James Owen (Here There Be Dragons)–all of whom I know and like! I'll be wandering around at 10:00 buying Fairy stuff but I believe the Author stuff starts at 12:00. (If not, someone needs to come find me and pry me away from the Fairy artwork booths.)
One of my friends is even going to sew my fairy clothes. How nice is that? I need to put her in a book dedication or something. (And yes, I will take pictures.) Here's the official info if you want to come:
——————————————————————————–
Saturday November 14th
Estrella Park in Goodyear
14805 West Vineyard Avenue (in the NAVY area)
10am-9:30pm (IMPORTANT NOTE: No Admittance or Re admittance onto the event grounds after 7pm)
Parking "Estrella Park Fees" $6 per car load
Event Tickets Only $10 ea ages 5 & Under FREE
No pets please
Lawn Chairs and Blankets Welcome
Creative Costumes Encouraged
No outside food or beverage
Come celebrate the folklore and fantasy, mystery and magic of the Faerie Realms with Food and Fun,
Stay In The Loop
Subscribe and receive a free Ebook!
Want to know about new releases or ebook sales?
Sign up for Jannette's newsletter and receive a free copy of Fame, Glory, and Other Things On My To Do List.