Okay, remember how I said in a blog long ago that I would know I'd made it when Mattel created a Barbie doll of one of my characters? Well, I was flipping through my latest Barbie doll catalog and low and behold what do I see but this picture: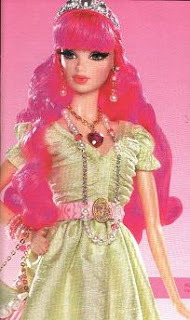 Look at that long pink hair and the gaudy accessories. Clearly this is Chrysanthemum Everstar from My Fair Godmother, (See the picture in my last blog) which means that my book and character must have reached the same fan level status as Elvis and Priscilla, Lucy and Ethel, the cast of Grease, and Batgirl, who are also in the catalog.
I am officially cool.
Okay, so Mattel didn't know they were making a Barbie doll likeness of one of my characters. She's actually one of their designer series Barbies. This one is by Tarina Tarantino. (Don't you just want to rush out and buy something of hers?) And because she's a designer Barbie, she costs twice what the normal collector Barbies cost, and I'm going to have to shell out 80.00 if I want to own one. (It's basically the same principle involved in buying designer jeans.)
I sooo bet that Priscilla Presely got a free copy of her doll.