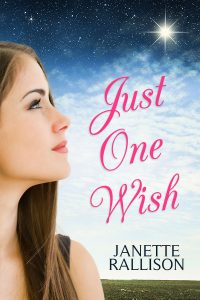 Seventeen-year-old Annika Truman knows about the power of positive thinking. With a little brother who has cancer, it's all she ever hears about. And in order to help Jeremy, she will go to the ends of the earth (or at least as far as Hollywood) to help him believe he can survive his upcoming surgery. But Annika's plan to convince Jeremy that a magic genie will grant him any wish throws her a curveball when he unexpectedly wishes that his television idol would visit him. Annika suddenly finds herself in the desperate predicament of getting access to a hunky star actor and convincing him to come home with her. Piece of cake, right? Janette Rallison's proven talent for laugh-out-loud humor, teen romance, and deep-hearted storytelling shines in a novel that will have readers laughing and crying at the same time.
Stay In The Loop
Subscribe and receive a free Ebook!
Want to know about new releases or ebook sales?
Sign up for Jannette's newsletter and receive a free copy of Fame, Glory, and Other Things On My To Do List.