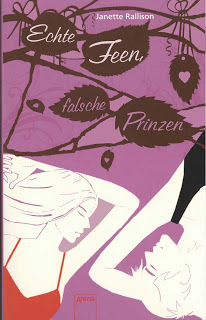 I just got the German version of My Fair Godmother. They changed the title, of course. (The play on words doesn't work in other languages.) Their title is Real Fairies, False Princes, which I have to say, is one cool title. I totally wish I had thought of it, and I'm sad it won't work for the sequel. (Sorry, no princes, but there is a single king.)
When I turned in My Fair Godmother to Walker it was 111,000 words–over 400 pages. They thought this was too long and wanted me to cut nearly a 100 pages out. They did have a point. It needed to be trimmed. I clearly learned my lesson because this time when I wrote the sequel it was only 103,000 words. Yeah, I know, the first revision request I'm expecting is that I cut the text down—which I'm dreading because I already cut 7,000 words from it before I sent it in.
Granting three wishes just takes some time.
Anyway, so the interesting thing about the German version of My Fair Godmother is that it is 419 pages long. I feel strangely vindicated by this fact. I also wonder what is in those extra pages. Is German like Russian and it takes them more syllables to say the same thing? Did the translator go into more depth explaining things? Maybe the romance scenes are more romantic. It makes me wish I spoke German.