I just got back from the Kanab writers conference. (Check out those beautiful rocks. Gorgeous area)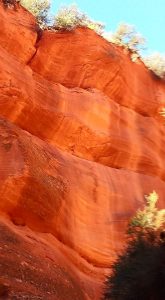 Before that, I was at LDStormakers Midwest in Kansas. (Also a beautiful area because it has real trees.) The funnest thing about conferences is seeing and meeting other awesome writers.
At conferences, we inevitably talk about what we need to do to take our writing to the next stage–and to hopefully become rich and famous.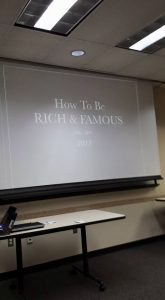 (Here is an actual slide from Jessica Day George's class. Now don't you wish you'd come? She totally told us all of the rich and famous secrets.)
Here's the thing. I am not really rich or really famous. Most authors aren't. But I've gotten something amazing out of this career. I know a ton of awesome people. I'm not sure why writers and readers are nicer than the average people. But they are. Case in point: I remember meeting John and Danyelle Ferguson at one of the early Provo LDStorymakers conferences. John introduced himself and told me he wasn't really a writer, he was just here taking notes at the classes because his wife wanted to go to more classes than was physically possible. So he was sitting in some and he was taking notes in others. (That's how you know you married the right man, by the way.)
For the last two years I have stayed at John and Danyelle's house when I go to Kansas and do school visits. Ditto for Liz Adair, who I met through my writing group and who has put me up in her house in both Washington and in Kanab. Her husband took me, my husband and another writer ATVing on Friday. (Lots of fun even if I did crash once. Hey, the rode was washed out. It happens.)
I met Sarah Eden through a booksigning, told her I would critique her next book, and then ripped the thing to shreds. She still speaks to me anyway, although she has admitted that when she writes now, she hear's my voice in her head, saying, "What is your character's goal? Just living, is not a valid goal."
She has put me up in her house in Provo twice now, and she's stayed with me in Arizona once.
I could go on and on, but this would become a very long post. And I realize these stories are sort of making me look like I make friends with authors just so I can use them as lodging. (Really, not the case.) Anyway, the point is, writing has it's benefits. I may not live in a mansion and hob-knob with celebrities, but I am rich in friends.
Thank you to all the readers and writers out there who have become my friends!
Stay In The Loop
Subscribe and receive a free Ebook!
Want to know about new releases or ebook sales?
Sign up for Jannette's newsletter and receive a free copy of Fame, Glory, and Other Things On My To Do List.