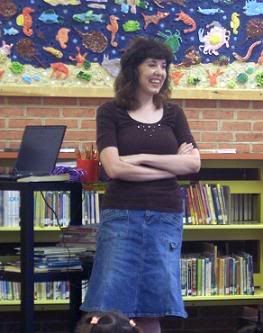 While I was in DC I did five school visits to fabulously brilliant children. (The fact that they liked my books is proof positive of their brilliance.) However, I must say that the most memorable was the surprise visit I did to my old fifth grade teacher's class. The librarians and I sneakily set it up without him knowing anything about it.
They told Mr. Kuykendall that all the fifth grade classes were required to go to a reading and writing seminar in the library. He has been teaching for nearly forty years so he wanted to skip out of the seminar, but they were insistent.
He walked into the room and glanced over at me with absolutely no recognition. (Some of you may be surprised to learn that I've changed since the fifth grade.) In his defense he told me later that I didn't hold his attention because he quickly realized that every important person at school was in the library (including the district photographer). What was the principal doing at a reading and writing seminar?
Then he looked at me again, and it all sunk in.
I would have felt really bad if he'd actually had a heart attack before my presentation—and I suppose I should have thought about that before I surprised a sixty-one-year old man. But he survived the shock and had a good time listening to my presentation.
I had many good teachers, but Mr. Kuykendall will always be my favorite. He is one of those really extraordinary teachers that other teachers hate because he sets the bar so high.
He was an especially good teacher for me to have in fifth grade because up until that point I had pretty much just day dreamed through school and saw no point to changing my ways. Mr. K made me believe I was smart though. My grades went from C's to straight A's that year. He also told me that I was going to be a writer one day. He bought me a blank book and told me to write a story for him so that after I became a published author he could tell people he had my first book.
So he does, but don't get excited because I guarantee you I wasn't a child prodigy and it's nothing that you'd ever want to read—unless you want to read bad writing in order to feel good about yourself. It might work for that.
I told his current fifth grade class all about this and they agreed that he is a marvelous teacher and thought my old class picture of him was hilarious. (Have to love those 70s shirt collars which could double as hang glider wings.)
Afterwards another teacher covered his class and Mr. Kuykendall, my husband, one of his good friends, and I went out for lunch. It was nice to get caught up and spend some time together. As far as school visits go, that one will always be one of my most memorable.