I always feel so weird telling people that my book has been released. It sort of makes me feel like my book was kept locked in a basement somewhere.
But anyway, it's out in the world now and you can get it here Click for the Best Cowboy Romance Ever or read on Kindle Unlimited. And please, please review!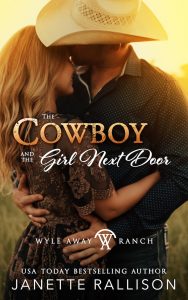 She won't lose the ranch without a fight, even if it means fighting him.
Kate Benton has wanted nothing to do with ranchers since she was fifteen and too-hot-for-his-own-good Landon Wyle caught her kissing his little brother during a cattle drive.
Yep, that event pretty much put an end to a lot of things, like her dignity.
But when her grandfather dies, he leaves his ranch to her with one provision: she has to live on Coyote Glen and keep it profitable for a year.
Kate is used to the finer things in life, such as sleeping in past the crack of dawn and fingernails that aren't broken.
Mucking stables, fixing fences, and avoiding being trampled by angry cows isn't exactly how she imagined spending the next year, but her family needs the land.
She's in over her head. However, the man who can best help—Landon—is second in line to inherit if she fails.
And he's only gotten more handsome. Of course.
Losing the ranch is bad enough, she refuses to fall for the man who wants to take Coyote Glen from her.
Landon's brothers depend on him to keep their ranch and their family together. To succeed, he's thrown himself into his work—and ok, maybe he's avoided relationships. He needs the wells on Coyote Glen to keep his own ranch running and can't afford to let Kate's beautiful green eyes distract him.
If he loses his heart to her, he loses everything.
The Cowboy and the Girl Next Door is the first novel of a sweet, feel-good, laugh-out-loud romantic comedy series. If you like heroines with sass and hardworking men who look great in denim, you'll love this swoon-worthy novel!
We believe in happily ever after, so no cliffhangers are allowed on our ranch.
Stay In The Loop
Subscribe and receive a free Ebook!
Want to know about new releases or ebook sales?
Sign up for Jannette's newsletter and receive a free copy of Fame, Glory, and Other Things On My To Do List.