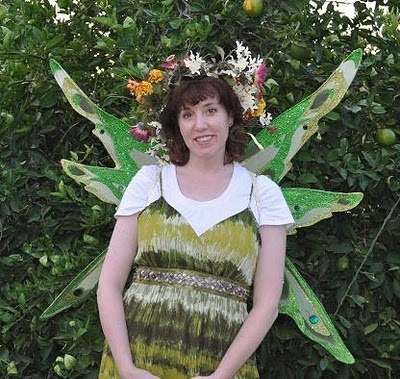 As you can see, I'm wearing wings, which means it's Faerie Festival time again! Come mingle with fey folk. It's like Halloween for adults.
I'll be there Saturday, November 20th, doing a reading from one of my fairy godmother books at 3:30-4:00 and then signing books.
It's at Estrella Mountain Regional Park
14805 West Vineyard Avenue
Goodyear, AZ 85338
On a completely unrelated note, I found this darling fairy purse for sale online at: http://www.buycostumes.com/Fairy-Pouch/21198/ProductDetail.aspx?REF=SCE-pricegrabber.
What do you think–should I buy it? I mean, it's a want not a need, but it's just so cute. And now that you've looked at the link, you want one too, don't you? They also sell wings and fairy costumes if you happen to need a new fairy dress. (Although some of them look more like stripper fairies. Makes you wonder what Tinkerbell did in her spare time.)
You can check out more info on the festival at: http://www.westerngatesfaerierealms.com/PhoenixFaerieFestival.htm
If you are not of the fairy persuasion, I have a couple more events you might enjoy.
My Double Life Book Party at the Hamilton library (attached to Hamilton High)
3700 S Arizona Ave, Chandler, AZ
Monday, Nov. 29 6:00 p.m.- Meet famous Teen Author Janette Rallison, Double Dutch demonstration, double snacks, and dress as your "celebrity double" for a chance to win a doubled prize! For ages of 12 Years and 18 Years old. (And their mothers, of course)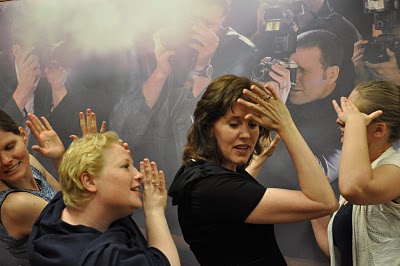 I'll be reading from My Double Life, hopefully coming up with a few interesting things to say, and we'll be taking some of those awesome pictures in front of the paparazzi.
And last but not least, On Tuesday, November 30th, I'll be signing books at the Chandler Traditional Academy (Independence campus) Family Literacy Night 5:00-7:00
You can get a free My Fair Godmother poster if you come . . .and you know you really should get one since you talked yourself out of buying the fairy purse.
1405 W Lake Dr., Chandler, AZ 85248
located just west of the intersection of Lake Dr. and Alma School Rd., near Snedigar Park.
Hope to see you there!
Stay In The Loop
Subscribe and receive a free Ebook!
Want to know about new releases or ebook sales?
Sign up for Jannette's newsletter and receive a free copy of Fame, Glory, and Other Things On My To Do List.