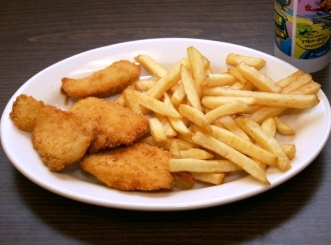 The heroines of my stories frequently have embarrassing moments. I wish I could say these scenes were the result of my vivid imagination and not the aftereffects of me blundering through life. But yeah. No. It's the latter. So I had another one of those "Janette Rallison" moments in Vegas.
Tina Ratterman, the lovely woman who does distribution for the movie Dragons: Real Myths and Unreal Creatures lives in Vegas. Since we'd been emailing for a few months, we decided to get together for dinner while I was in town. When my  husband (AKA Techno-Bob) and I reached the restaurant, Tina was already seated at a table. We were a few minutes late due to traffic and the fact that we couldn't find a parking space. We said our hellos, and Tina said something along the lines of: "Do you want appetizers? We could share if you'd like. I've already ordered some fries and chicken fingers."
So in my mind that meant that she'd already ordered some appetizers and we could order appetizers too and share.
Techno-Bob ordered chips and salsa, and we chatted until the waitress came with food.  She put the chips in front of Techno-Bob and the fries and chicken fingers in front of Tina. The salsa was sort of hot, so I mostly ate fries and had one of the chicken fingers while we talked. (Imagine me being witty, charming, engaging and such.)
Then the waitress brought out Techno-Bob's dinner and my dinner. That's when I realized that Tina hadn't ordered an appetizer. She'd ordered dinner and it had just come the same time as our appetizers–and I had been sitting there eating her dinner.
Yeah, I'm really awesome that way. What a great first impression. Sigh.
This is why I will never run out of embarrassing scene ideas.
Stay In The Loop
Subscribe and receive a free Ebook!
Want to know about new releases or ebook sales?
Sign up for Jannette's newsletter and receive a free copy of Fame, Glory, and Other Things On My To Do List.