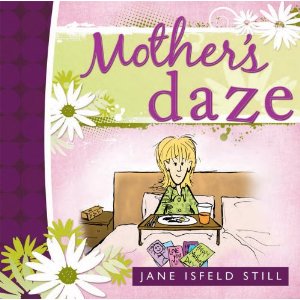 One of the funnest parts of going to writers' retreats is meeting new authors and getting their books. Author Jane Still generously donated one of her books to give away on my blog. It's an 82 page Erma-Bombeck style book on the joys of pregnancy and motherhood.
My favorite part was about morning sickness:
I find it ludicrous that some men, including doctors, have the nerve to suppose that throughout the entire span of history, women were so stupid that they couldn't invent a sickness that was a little less repulsive. If I were going to concoct a disease, it would have something to do with eating expensive chocolate. It would not involve sticking my head inside a toilet for a preview of last night's dinner being re-served in the form of warmed-over soup.
So, so true. Do you know who came up with the idea that morning sickness was a psychological phenomena? Freud. Do you know why he thought that? Because he was never pregnant.
Anyway, if you'd like a chance to win Mother's Daze, leave a comment in my blog about your favorite or least favorite part of motherhood. My followers get double chances and if you also happen to be a follower of Jane Still, make sure to mention it and you will get triple chances.
Her blog is at http://janeisfeldstill.blogspot.com/