I did a lot of book events last year. I spoke at three conferences, a book festival, and the ALAN convention in Orlando. I had a blast at all of it, but there is just something extra fun about doing school visits and getting to meet the students who read my books. Here are some pictures of my last school visit of the year at the awesome Sonrise Christian School in California.
All of you guys out there who want to be writers–this is the payback for all of those long days when you don't have time to shower and the even worse days when you get the revision letters and wonder why on earth you keep doing this to yourself when you clearly would be happier as a truck driver. Not that I think that . . . very often . . .
Look, I'm on the sign: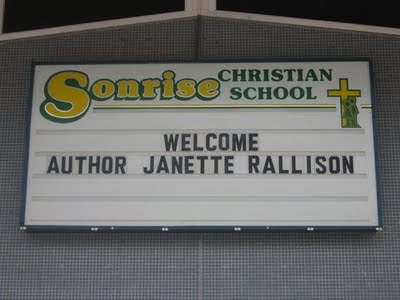 This is a picture librarian Sandi Lehnhard sent me before the visit. It's always a good sign when kids are reading your books before you come to speak to them.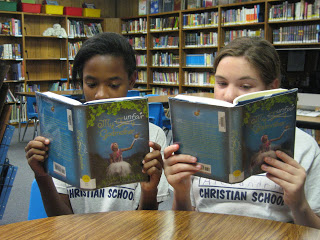 And here is a group of awesome kids who will go far in life. I know this because they already have impeccable taste in literature.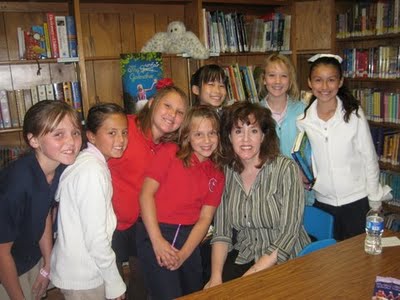 They made a special Fairy Godmother smoothie in my honor. And it was really yummy. It's probably a good thing I don't have access to more of these, or I wouldn't fit into my school-visit-black-pants come next fall.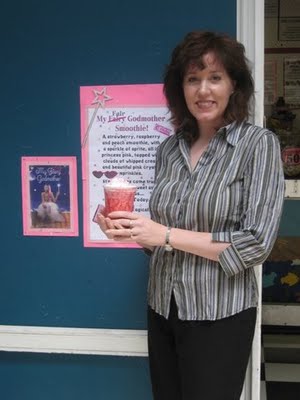 I keep this fairy wand on my dresser next to my Beanie Baby stork. But then, my dresser is a subject for a whole nother blog. (And yes, I realize that the phrase 'whole nother' is bad grammar. But I refuse to pay attention to the rules of grammar until they make sense. This will include an apology for putting an 'H' in the word 'which' when the word 'sandwich' doesn't have one. Also someone will need to explain why recipe isn't pronounced re-cipe.)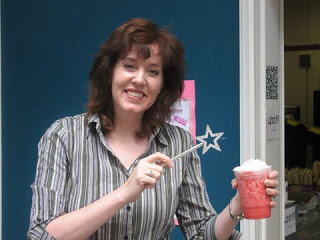 Anyway, it was a good end to the school year.
Stay In The Loop
Subscribe and receive a free Ebook!
Want to know about new releases or ebook sales?
Sign up for Jannette's newsletter and receive a free copy of Fame, Glory, and Other Things On My To Do List.