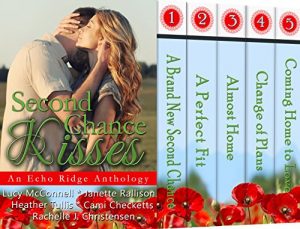 For those of you who're wondering why the fourth Slayers book isn't out yet–writing this latest novella was partly to blame.
I know, you suddenly feel an intense hatred toward this poor novella, don't you? But never fear, Slayers 4 (and probably 5… yeah, I think I need to break this book up again) is coming along and in the meantime, you have this 135-page romantic comedy to read. And I promise not to agree to be in any more romance anthologies until it comes out.
Here's the back blurb: Do you remember your first love? Have you ever wondered what would happen if you had a second chance to follow your heart? In this collection of novellas written by award-winning and bestselling authors, come home to Echo Ridge as summer winds down and hearts once broken and lost are given one more chance, a second chance to love.
(Although if you read my novella My Fair Lacey–this is the story about Lacey's roommate, Jojo.) You can order it here:
Stay In The Loop
Subscribe and receive a free Ebook!
Want to know about new releases or ebook sales?
Sign up for Jannette's newsletter and receive a free copy of Fame, Glory, and Other Things On My To Do List.