One of the problems with writing a book is that you imagine your characters look a certain way. The marketing department can't read your mind. To tell the truth, they don't even try. In fact, they often don't read the book. You might describe your character as Latina (My Double Life)
but don't expect them to put a Latina girl on the cover. And no matter how many times you say your main character has honey-brown hair (Slayers) Marketing may decide that blonde hair pops more on the cover, so that's what you're going to get.
(Although I have to admit they're right. The blonde hair is a nice contrast against the dark cover.)
Long time fans can already guess who I was imagining that Dirk and Jesse looked like. After all, I say in Slayers that Dirk is a dead ringer for Dirk Benedict.

And I say right on my website that Richard Hatch from Battlestar Gallactica was my teenage crush.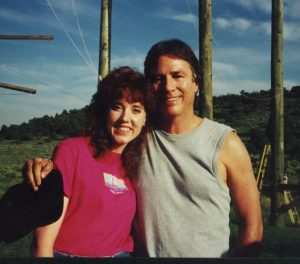 So I had teenage versions of these guys in mind:
This is what marketing decided Dirk and Jesse looked like:
It still looks dang cool. I can't complain.
Tori is a socialite so I had a softer vision of her in my mind. Something like this:
The girl on the cover looks like she could and might beat you up. I guess it works though. I mean, she does fight dragons.
The weird thing that happens—at least for me—is that after I see the cover, as I'm revising the story, the characters start to look like the cover models. Just one of the hazards of writing novels.
Stay In The Loop
Subscribe and receive a free Ebook!
Want to know about new releases or ebook sales?
Sign up for Jannette's newsletter and receive a free copy of Fame, Glory, and Other Things On My To Do List.