Click here to buy on Amazon or read for free on Kindle Unlimited!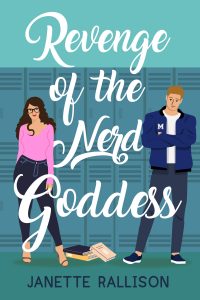 Who says the smart girl can't get the quarterback?
When Dakota moves to her new high school, she has a run-in with three jerks. They may moo at her in the hallway, but she can bide her time and plan an act of appropriate revenge for them. Being smart, after all, has its perks.
In the meantime, she has to keep her mother from marrying the wrong man. The "wrong man" pretty much means any and all of them.
Then there's the hot quarterback at school. She keeps running into him in. And oh yeah, he likes the girl who may end up being Dakota's stepsister.
That's not problematic. Except when Dakota gets distracted by his broad shoulders and tawny brown eyes.
He seems to like her, but he can't possibly, can he?
Quarterbacks don't go for nerd goddesses. Or maybe they do.
Revenge of the Nerd Goddess is a sweet, teen romantic comedy that will have you laughing, rooting for the heroine, and wondering if you should have taken more computer classes in high school. It deals with bullying (who didn't get bullied at some point in high school?) and the challenges of blended families. It has HEA ending because all teenage girls deserve happy endings!
Stay In The Loop
Subscribe and receive a free Ebook!
Want to know about new releases or ebook sales?
Sign up for Jannette's newsletter and receive a free copy of Fame, Glory, and Other Things On My To Do List.