It's almost 1:00 in the morning–but hey, I remembered to pick today's book winners. Which means we're off to a promising start!  The count-down to Aug 28th is on its way.
Next up will be Just One Wish (because someone mentioned in the comments that it was their favorite book.)  A lot of people tell me this one is their favorite of my books, which sort of surprises me since the main character's little brother has cancer. I really thought I was going to get angry letters from all of my fans.  (I did get two angry emails, actually.  I'm pretty sure I have more fans than that.)
Leave a comment telling me what you would wish for if you had just one wish. Let me know if you're a follower, as that will earn you an extra chance.  Blogging or tweeting about the giveaway or your undying admiration for me will earn you another chance. And yeah, I guess you'd better put in the link for that. Twitter and Google search are supposed to let me know when my name pops up in the internet, but it only works about a third of the time and I'm too untechnical to figure out how to fix that problem.
You're allowed to comment on both blogs–and you might as well, as it doubles your chances. The CJ Hill one is: http://cjhillbooks.blogspot.com/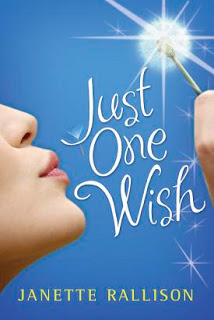 Seventeen-year-old Annika Truman knows about the power of positive thinking. With a little brother who has cancer, it's all she ever hears about. And in order to help Jeremy, she will go to the ends of the earth (or at least as far as Hollywood) to help him believe he can survive his upcoming surgery.

But Annika's plan to convince Jeremy that a magic genie will grant him any wish throws her a curveball when he unexpectedly wishes that his television idol would visit him. Annika suddenly finds herself in the desperate predicament of getting access to a hunky star actor and convincing him to come home with her. Piece of cake, right?

Janette Rallison's proven talent for laugh-out-loud humor, teen romance, and deep-hearted storytelling shines in a novel that will have readers laughing and crying at the same time.
Author's note: I don't know about the readers, but this book left me crying when I wrote it and every time I had to read through it for a revision–which is why I can't write tragic stories. I would be an emotional mess the entire time.
Stay In The Loop
Subscribe and receive a free Ebook!
Want to know about new releases or ebook sales?
Sign up for Jannette's newsletter and receive a free copy of Fame, Glory, and Other Things On My To Do List.