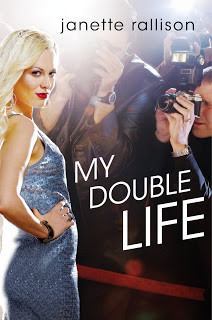 A few blogs are giving away ARCs of My Double Life right now so I thought I'd let my blog readers know so they can enter. I'll update the list this week if google tells me of more blog giveaways. There's also a blog that's doing an interview, and since I know you're all memorizing Janette Rallison trivia and crave these sorts of details, I thought I'd add three of the questions here–sort of a teaser that will make you want to read the whole thing.
If you could travel in a Time Machine would you go back to the past or into the future?
Well, according to the latest novels (and we know authors are always right) the future is populated by dystopian societies that will do things like make you fight to the death in hunger games, choose your spouse for you, or put you in a deadly maze. Whereas the past was populated by numerous hot dukes, lords, and viscounts who were always looking for spunky heroines to settle down with. Taking that into consideration, I think I would visit the past.
If you could invite any 5 people to dinner who would you choose?
That depends whether my choices were limited to the living or if I could invite the dead too. (Although really, the dead don't usually make good dinner guests.) It's too hard to choose just five, because George Washington gets all bent out of shape if you invite Abraham Lincoln and not him. So I'll tell you which five writers I'd choose to have to dinner. Jane Austin, James Herriot, J.M. Barry, Ellen Conford (she was my favorite author growing up) and Charles Dickens
(Janette's note: I just finished reading The House of the Seven Gables and I can tell you right now that Nathaniel Hawthorne will never be invited to one of my chic and exclusive dead-author-dinner-parties because that man just drones on and on and on about the most pointless things.)
What is one book everyone should read?
Mine. Definitely. Just pick one—everybody should read it.
To read more of the interview, and a chance to enter the book giveaway go to:
http://iamareadernotawriter.blogspot.com/2010/12/bir2010-book-giveaway-my-double-life-by.html
You can find other book giveaways at:
http://fireandicephoto.blogspot.com/2010/12/janette-rallison-my-double-life.html
http://areadersramblings.blogspot.com/2010/12/best-ive-read-2010-day-6.html
http://www.bookscompleteme.com/2010/12/bir2010-book-spotlights-giveaway-my.html
http://www.onceuponatwilight.com/2010/12/bir2010-janette-rallison-interview-my.html