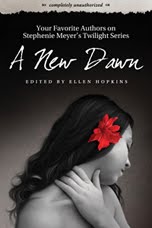 I know a lot of you Twilight fans wanted to win a copy of this book–well, you're in luck! Ben Bella books is giving me two more copies to give away. (Because they're cool like that.)
So would you like to read essays on the Twilight craze and everybody's favorite vampire hotty, Edward Cullen? Hear what authors like Ellen Hopkins, and me, and James Owen, and me, and Robin Brande, and me, and Megan McCafferty have to say on vampires and werewolves. My essay is the best. Not that I'm biased or anything.
If you want a chance to win, leave a comment. If you also happen to be a blog follower, I'll give you a double chance at winning. (That, by the way, is blatant attempt on my part to get blog followers in case my editors check that sort of thing. I mean, you never know.)
Good luck, and may the random number generator be with you!