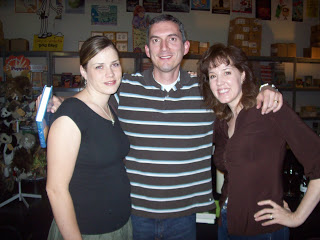 It's plain and simple, really. If I didn't keep writing I wouldn't get invited to fun places like James Dashner's author dinner last night at the Phoenix Book Company.
Here's a picture of Aprilynne Pike (Wings) James, (Maze Runner) and Me. (And I'm not going to list all my books but number 16 comes out in May.)
We got to meet lots of librarians and reading specialists, who are superheros in my book because they're the ones that help kids discover the fun of reading.
And I know I said next blog I'd be giving away more books, but I guess this is good time for all of you to learn that you can't trust writers because we lie for a living. Next blog, I'll give them away. Really.
Stay In The Loop
Subscribe and receive a free Ebook!
Want to know about new releases or ebook sales?
Sign up for Jannette's newsletter and receive a free copy of Fame, Glory, and Other Things On My To Do List.