It's that festive time of year when everyone rushes to take down their Halloween stuff and put up their National Author Day decorations. Yes, pull out your Mark Twain centerpieces, your Jane Austen wreathes, and those life-size twinkly Bronte Sisters for the yard. Then let's all sing a few Thank-goodness-we're-not-in-school-anymore-so-we-don't-have-to-read-Hemingway-again carols.
And don't forget to send me your Author Day gifts. Remember, you can't go wrong with precious gems.
Special note to my husband: really, we've been married for 21 years so you ought to know by now that you can't buy Almond Joys, Snickers, or peanut M&Ms for trick-or-treaters and expect that they will ever see Halloween Night if I'm in the house. This is why you must buy the type of candy I don't like. I didn't touch the Whoppers.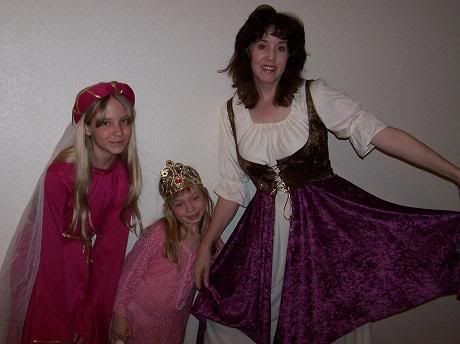 There are obviously a lot of princesses at our house.
My oldest son wanted to be a vampire for Halloween. This is what happens when the girls at school start calling you 'Edward.'
Aren't they sooo cute?
Stay In The Loop
Subscribe and receive a free Ebook!
Want to know about new releases or ebook sales?
Sign up for Jannette's newsletter and receive a free copy of Fame, Glory, and Other Things On My To Do List.