A lot of reality shows have a sort of train wreck appeal to them. It's like a view into the underside of society.
But it occurred to me that it isn't just the Maury Povich Show rejects who end up on these shows. In fact, some people that you know, love, and grew up with could qualify as candidates. The Little Mermaid: Sure, her voice could put her on American Idol, but she's also got a dirty little secret that could land her on Hoarders.
Yeah, Ariel, your collection is more than complete.
Or how about Snow White? That frantic rush through the forest as she ran away from the Queen's huntsman could have been an episode of ManTracker. Or maybe she could do a spin off of Kate Plus Eight.
Snow Plus Seven. It could work.
Here are some other likely pairings.
Aladdin: Cops
Sleeping Beauty: Mystery Diagnosis
Jasmine: The Bachelorette
Beauty: Mr. Personality (Okay, probably most of you never watched this TV show, but I actually liked the premise, even if those dorky masks did make all the guys look like super villains.)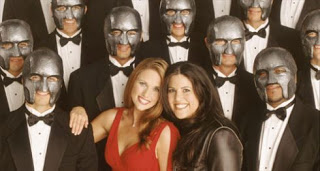 So who are your pics for the best celebrity pairings with reality TV?
Stay In The Loop
Subscribe and receive a free Ebook!
Want to know about new releases or ebook sales?
Sign up for Jannette's newsletter and receive a free copy of Fame, Glory, and Other Things On My To Do List.