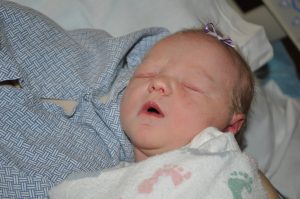 You know, the type of grandmas who think everyone wants to see pictures of their grandchildren. Yep, apparently I'm one of those.
Meet Baby X, thus called because her parents haven't finalized a name yet.
I was four hours away when my daughter went into labor about a week early. I drove through a snowstorm to get to the hospital. Even when she called at three thirty to tell me she was having contractions, I thought I would have lots of time. I only drove fast because I wanted to be as close as I could be before the storm hit. As it turns out, it was a good thing that I sped. When I was still a couple of miles away, she called to tell me she was waiting for the doctor so she could start pushing. I literally ran through the hospital. I made it in time. What a  miracle. And she looks just like her mother did as a baby–angelic.
Stay In The Loop
Subscribe and receive a free Ebook!
Want to know about new releases or ebook sales?
Sign up for Jannette's newsletter and receive a free copy of Fame, Glory, and Other Things On My To Do List.