I'm what you would call a doll aficionado. Or perhaps just a doll addict. I don't seem to be able to resist buying them. I've got three doll cabinets that don't begin to house my collection, so dolls sit perched around the house like wandering orphans looking for a permanent home.
Every once in awhile I go to eBay and look at the reborn dolls. Reborn dolls are made from molds that artists then paint and add hair to so that they look like real babies. Seriously, take a look at these examples.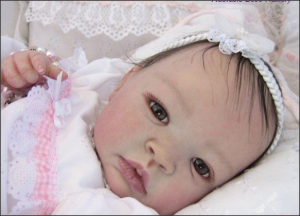 Isn't this doll adorably life-like?
This doll is so cute, if I could, I would do something embarrassing like blow raspberries on its little cheeks.
And I still can't believe this one isn't a real kid. I mean, how utterly precious.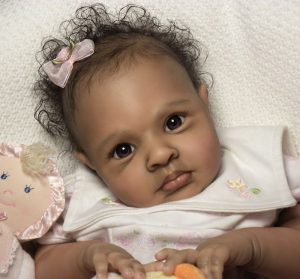 Unfortunately, not all doll artist have reached this artistic level. In spirit of the cake wrecks blog–offering constructive criticism with only the best intentions–I'd like to give aspiring doll makers a few tips
1) Get the color right. And by the way, red is not a normal human color unless you are an alien.
If your newborn looks like this next photo, you need to recheck that APGAR score.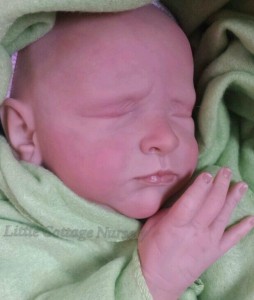 The next child looks like her parents went to the beach and forgot the sunscreen.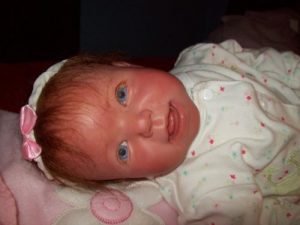 Ouch. It hurts to look at her. And this next one: Ouch again. (Note to self: buy more sunscreen.)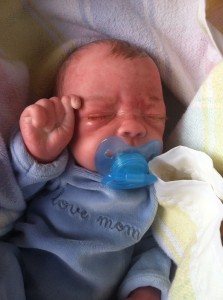 I'm all for a healthy tan, but um, maybe it's not a good idea for your newborns. Just saying.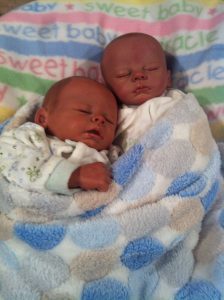 2) Should you want to sell your doll, it should not look like it is contemplating a life of violence and revenge.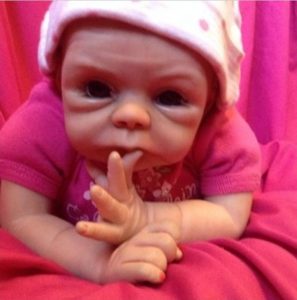 The following doll looks like he's not only planning your demise, he's pretty certain he can accomplish it.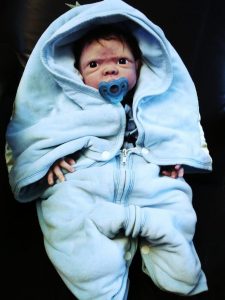 I thought maybe the picture wasn't the doll's most flattering pose, so I looked at the other pictures too.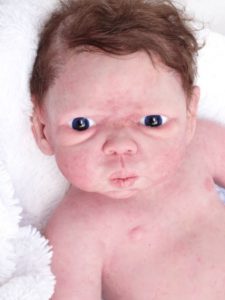 Nope, the pose has nothing to do with it. The doll is  just waiting to grow up so it can kick your butt. His street name is probably Vinny the Destroyer.
3) Doll owners like to think of themselves as good parents, so the doll you're trying to sell shouldn't look as though it's afraid of being hit. Like this one:
Or this: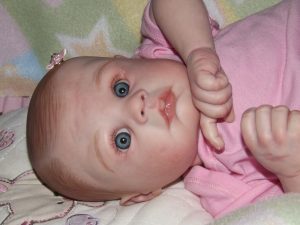 In the dolls' defense, perhaps they've seen other doll listings pictures and think they have something to worry about.
I'm not sure whether this doll is being sold, or held hostage for ransom.
4) Speaking of doll emotions, your doll shouldn't wear a look of disappointment–as though it was expecting better parents and found itself stuck with you instead. You think I'm joking, but you'd be surprised at the level of disappointment visible on various dolls. For example, here's a doll exhibiting wistful displeasure:
She's clearly thinking, "I'm much too good-looking for these parents." She's probably right.
If unchecked, wistful displeasure may lead to the haughty disillusionment exhibited in the next doll: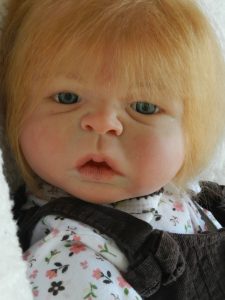 "What? You're my parents? I demand a recount."
Here's a doll with pensive discontent: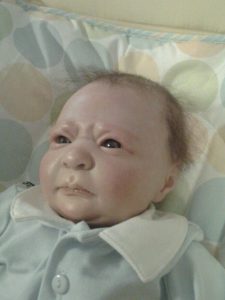 "Drat. It will be years before I'm old enough to run away from home."
And here's a doll with flat out sullenness: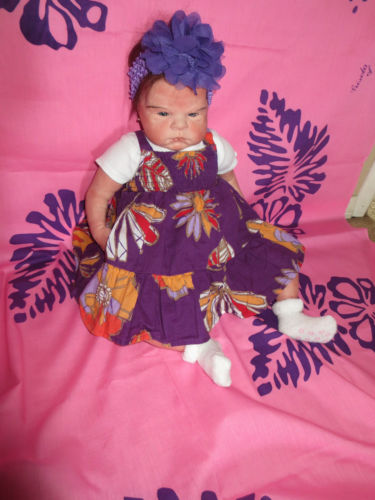 "If my parents forget the sunscreen one more time, I'll call my friend, Vinny the Destroyer."
This next doll seems to have moved beyond disappointment and has settled into despair: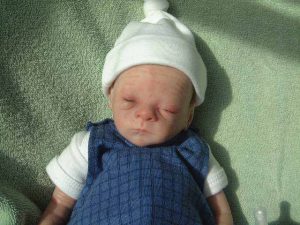 "Dang it woman, get me a bottle and make it a double."
One last reminder to doll artists. This is what an actual newborn looks like: (You knew I was going to sneak a picture of my granddaughter in here . . .)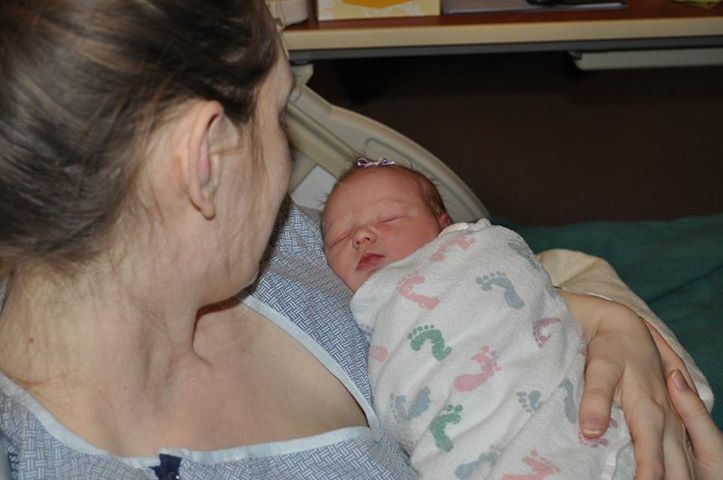 If your newborn doll rendition looks like this: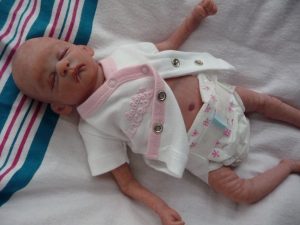 people will want to send you money so you can put the doll in intensive care.
Again, just helpful little tips because I care.
For looks at past doll wrecks, check out these blogs:
Stay In The Loop
Subscribe and receive a free Ebook!
Want to know about new releases or ebook sales?
Sign up for Jannette's newsletter and receive a free copy of Fame, Glory, and Other Things On My To Do List.