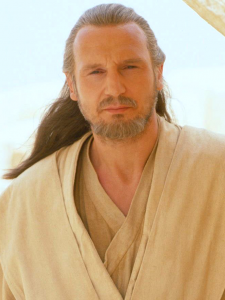 I admit I wasn't planning on killing off any of the slayers in the last book of the series. I  made this decision for two reasons. One, I don't like books or movies where characters I like die. I still haven't forgiven George Lucas for killing off Qui-gon Jinn. We will not even discuss Han Solo. As far as I'm concerned, that death never happened. So I'm not one to just randomly kill off a character because death seems like an interesting plot twist. And number two, I want the book to end with mostly happy scenes. I have a scene where all of the slayers are together the day after the climax talking and laughing and feeling like normal teenagers again. That scene wouldn't really work if they were simultaneously mourning the death of one of their own.
That said, one of my author friends (Randy Lindsey) reminded me that if no one dies during the journey, the journey doesn't seem like it was that hard or that dangerous. Authors have to kill off someone to show that the struggle was hard. It's kind of an author rule. (If you don't like books where characters die, this is your notice that Randy's books might not be your cup of tea. Just saying.)
Randy has a point. Even though I don't like this point. I'm considering killing off Tori's horse. Although people don't really like books where animals die, and it's not like she had that close of a relationship with her horse. True, they spent time together in the first book. But since the next books takes place during the school year and not at camp we don't see Tori with her horse very much after book one.
Of course, this isn't to say that I didn't plan on killing anyone. One of the bad guys meets an unfortunate end in the last book. In the Team Jesse version of the book, *spoiler alert* I planned on killing Overdrake. Then in the Team Dirk version of the book, I had to unkill him because I didn't think that Dirk would care about romance with Tori if he'd just seen his father killed.
So what do you guys think,? Do I need to kill off a good character to make the journey feel like the struggle was hard enough? I could kill off one of the minor slayers but then does that really count? And even though he/she was a minor character, again the slayers would seem heartless if they were laughing and joking around the day afterward.
Several cities in the nation get trashed in the last book is that enough?
Stay In The Loop
Subscribe and receive a free Ebook!
Want to know about new releases or ebook sales?
Sign up for Jannette's newsletter and receive a free copy of Fame, Glory, and Other Things On My To Do List.