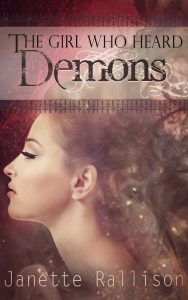 As I've been getting the book The Girl Who Heard Demons ready for paperback format, I read over a few of the comments the editor made and the comments I made back to her. During a scene where the main character has been kidnapped and duct tape placed over her mouth, I had her say several lines of dialogue to the villain.
The editor asked how she was talking and how she managed to break the seal of the duct tape. This was my reply to her:
Despite what all of the TV shows portray, duct tape's seal breaks as soon as you open your mouth. I know this because I duct taped my own mouth to research the scene and see how hard it would be to talk with duct tape. Yes, this is the sort of thing that makes people wonder about writers. I also duct taped my daughter's hands to see if Levi could get the tape off of Adelle's hands without scissors. Turns out if you pull up the end of the tape, it's really easy to unwind it. I'm sure CPS would understand . . . (Hey, one of my mystery writer friends had her husband drive her around in the trunk of her car so she could give accurate details for her book.) If you think it's a weird visual to have a piece of tape half sticking to her lips, I can take out that piece of tape altogether. It just seemed like a kidnapper would tape someone's mouth, and unless you've done it before, you might not realize it doesn't work.
Yep, writers are an interesting bunch. Perhaps odd, yes, but interesting.
So anyway, The Girl Who Heard Demons will be available in paperback within a few days.
Stay In The Loop
Subscribe and receive a free Ebook!
Want to know about new releases or ebook sales?
Sign up for Jannette's newsletter and receive a free copy of Fame, Glory, and Other Things On My To Do List.