Slayers: Into the Firestorm
The final book in the Slayers series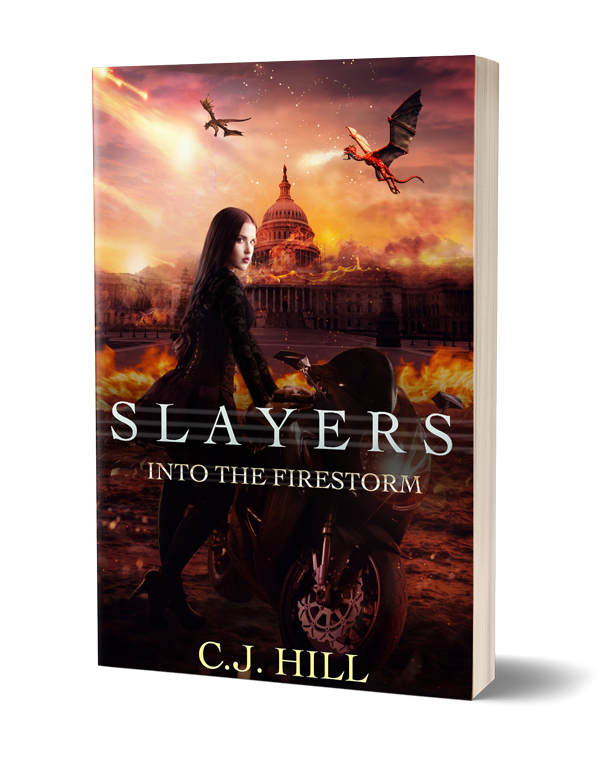 The attacks on the nation have begun.
As city after city falls, Tori Hampton and the rest of the Slayers are powerless to stop Overdrake, his dragons, or the EMP they employ.
And what's worse, Overdrake's son, Dirk, is no longer an ally. He's an enemy who knows the Slayer's tactics, plays, and weaknesses. This is doubly hard on Tori because he's her counterpart and she doesn't want to destroy him or the dragons.
Her feelings are a liability—but how does a person stop feeling things they shouldn't?
If Tori could control her feelings, she would reign in the ones she had for her ex-boyfriend, Jesse. He's the other Slayer team's captain and is tall, dark, and doing his best to ignore her.
The Slayers must find a way to stop Overdrake, and their lives aren't the only ones at stake.
In C. J. Hill's action-packed conclusion to the Slayers series, readers will find humor, romance, and a group of teens who won't give up without a fight. Sit down, ignore your chores and enjoy fighting dragons!
★★★★★

"If you've been waiting for all the books to be out before starting this series, wait no more! So great!"
— Tiana Smith, author of YA romantic comedy
★★★★★

"I'm sad to see this series come to an end. I have loved every book!"
— DMann, Amazon reader
★★★★★

"I've never read a Janette Rallison/C J Hill/ Sierra St James (all the same author) book a didn't enjoy."
— Kayleen, Amazon reader
★★★★★

"Every word she writes is perfect!"
— The author's mom
Love Slayers? Leave a review!
Stay In The Loop
Subscribe and receive a free Ebook!
Want to know about new releases or ebook sales?
Sign up for Jannette's newsletter and receive a free copy of Fame, Glory, and Other Things On My To Do List.